News
---

11.2.06 - TVGuide.com: Susanna Thompson will appear on CBS's Without a Trace on November 12th.

10.25.06 - TVGuide.com: Susanna Thompson's first airdate on CBS's NCIS as Gibbs' new love interest has been pushed back to November 7th.

8.7.06 - TVGuide.com: Evan Rachel Wood will play a younger Uma Thurman in the indie thriller In Bloom, about a woman haunted by survivor's guilt years after a high school shooting....



Sela Ward and
Hugh Laurie by
Michael Lavine/Fox
2.14.06 - TV Guide Online: Has House Lost Stacy for Good?
by Peter Rubin
The biggest question on Fox's House (Tuesdays at 9 pm/ET) this season hasn't been whether the brilliant Dr. Gregory House (Hugh Laurie) can cure all of those disturbing diseases — it was whether the seemingly unlovable lug would be able to win back his true love, Stacy Warner (Sela Ward), the beautiful — and married — lawyer who returned last season to shake up House's world.
In the Feb. 7 episode, we finally got the answer.
We first met Stacy when her husband needed medical treatment at Princeton-Plainsboro. Ever since then, House has ceaselessly angled to get back in her life — and in the Jan. 10 episode, their chemistry gathered some intense momentum. "We started the whole arc off very subtly — and very unsatisfyingly to some viewers," says executive producer David Shore. "So in the episodes leading up to this one, we brought them to the brink. And then we pushed them right over the cliff."
Stacy helps bring out House's softer side. "I think she's a great match for him and really does serve to bring out pieces of him that you wouldn't be able to see otherwise," Ward says. (Exhibit A: That unexpected hotel-room kiss when the two were stuck in Baltimore.)
Last week, Stacy was forced to make some tough decisions about how far she'll go for love. When she did, House was faced with an even tougher dilemma: Is he willing to change to make her happy?
Shore teased that showdown as "the Casablanca episode," for reasons that became quite clear at the end. And in true House fashion, the doc's motivations will remain somewhat mysterious. "Before Stacy came along," Shore says, "he was this curmudgeon — and he's still a curmudgeon, but he had love, and he sends it out of his life. We're all left wondering why he did it."
As for how House copes with his decision, Shore remains coy: "We're going to deal with the fallout. We're not going to have him pining for the rest of the season, but we want to at least give a nod to the end of the relationship."
But is it really over? As Ward says, Stacy's exit "definitely leaves things open. We talked about it before I left — it's such a tricky story line. I don't know if the producers will do anything; I don't think they know."
Hazy futures aside, there's plenty in upcoming episodes to keep fans glued. As House's season continues, Shore says, "We've got some good stuff happening with Wilson [Robert Sean Leonard] and his [personal life]. That gets a little bit more extreme." Maybe House should find a cure for broken hearts.
2.4.06 - Don't miss the article on Sela Ward entitled "The Goodbye Girl" on page 33 of the February 6th issue of TV Guide.
12.29.06 - Don't miss Susanna Thompson in the premiere of her new show, The Book of Daniel, on NBC at 9pm ET on January 6th.
11.28.05 - Audrey Marie Anderson (who played Carla in the second season) has replaced Amy Acker in CBS's mid-season series, The Unit.
11.22.05 - TV Guide Online: Will Ever Carradine Bed Chief's Hubby?
by Matt Webb Mitovich
C.J., you know we love ya, but there's a shiny new spin doctor in the White House, and she's being played by Ever Carradine on ABC's Commander in Chief (Tuesdays at 9 pm/ET, but preempted tonight). As Kelly Ludlow, she puts the best possible face on Mackenzie Allen's scrutinized presidency, all the while fielding furtive glances from the first son and lending her ear to the first gentleman. Carradine, whose previous long-term series gig was as the girl-toy of Sela Ward's ex-husband on Once and Again, chatted with TVGuide.com about life in TV's "other" West Wing.
TVGuide.com: I totally remember you as Once and Again's Tiffany. She was such a sad little... what's the word I'm looking for?
Ever Carradine: A sad little clown. [Laughs]
TVGuide.com: Actually, I was looking to alliterate by calling her a "sad strumpet," until I realized that a strumpet "does it for money."
Carradine: Oh, no. Tiffany had a little heart of gold, the sweet thing.
TVGuide.com: It was always so cute/pathetic when she tried to win over Sela Ward's kids.
Carradine: I know, so pathetic. [Laughs] But that was the best time. You know, I was only supposed to do one episode, maybe two, and then I ended up doing three years, so....
TVGuide.com: That show had such a great cast, and such quality.
Carradine: Well, Marshall Herskovitz and Ed Zwick are two of the best producers in the business. It was great.
TVGuide.com: Here you are once and again butting heads with Sela, who's on a rival Tuesdays-at-9 series!
Carradine: She's on House, right?! I can't seem to shake her! [Laughs] But that's all right.
TVGuide.com: When this plum Commander in Chief opportunity came up, did you make a beeline for it?
Carradine: I was sent a ton of pilot scripts, and Commander in Chief was one of them. I saw that it was written by Rod Lurie, whom I had worked for before on Line of Fire and I really respected his work, so I put it at the bottom of the pile and saved it for last — kind of like "dessert." I read the nine or ten on top of it, then read Commander in Chief, and I was like, "This is the one for me." I would have done anything to get the part.
TVGuide.com: Were you a fan of The West Wing or, like, the film The American President, going in?
Carradine: You know, I was a fan of Rod's movie The Contender, with Joan Allen, and yeah, I was a big West Wing fan.
TVGuide.com: What steps did you take to differentiate Kelly from C.J.?
Carradine: I think I am so different from C.J. just as an actress — [Allison Janney and I] don't go up for the same roles — that I wasn't too worried. The only thing that crossed my mind is that people are pretty used to seeing her play the press secretary; I simply hoped that they'd be open to seeing me do the same job.
TVGuide.com: Have you gotten any feedback from actual political circles?
Carradine: Yeah, I've gotten some positive feedback from a few of them.
TVGuide.com: Is anyone saying that Kelly is too young and perky?
Carradine: I don't think so. We shot in D.C. for a few days and there were lots of pretty little girls in smart suits walking around. The show is about Washington's best and brightest coming together in the White House, and Kelly, although she is a bit younger than we're used to, is about the same age that Dee Dee Myers was when she was Clinton's press secretary, so it's not totally farfetched.
TVGuide.com: Are you liking Kelly's smart suits?
Carradine: Yeah, they have me looking pretty good. I like a smart suit!
TVGuide.com: If Geena Davis ran for president, would she get your vote?
Carradine: Yes, of course!
TVGuide.com: Do you find that you're more attuned to real-world politics and White House spin-doctoring since taking the role?
Carradine: Yes, definitely. I watch press conferences with a little bit of a different eye. Not that I know what goes on behind the scenes, but I'm definitely interested in different aspects of it now that I'm trying to play it day after day. I think the job of a press secretary to is to always be on your toes, and that definitely is the case for Kelly.
TVGuide.com: What was the mood on the Chief set during the Rod Lurie-Steven Bochco show-runner transition?
Carradine: We all thought that the network was only trying to protect the product and make sure everything turned out the best it could. Were all just happy to have Bochco there, and Rod Lurie is still on as executive producer, so hopefully we're stronger than ever now.
TVGuide.com: What is the dynamic between Kelly and Richard "Dickie" McDonald, the media consultant being played by Mark-Paul Gosselaar starting Nov. 29?
Carradine: There's some tension. He sort of comes in and ruffles everybody's feathers a bit.
TVGuide.com: Does he step on Kelly's toes?
Carradine: He steps on my toes, calls me on some stuff.... It should make for interesting television!
TVGuide.com: An episode or two have hinted at a growing closeness between Kelly and first gentleman Rod Calloway, played by Kyle Secor. We're not going there, are we?!
Carradine: [Chuckles] We're not really going to go there. I either get asked if I'm going to go there with the first gentleman or the first son, and I think that neither of them will actually happen!
TVGuide.com: Do you get a kick out of the fact that on the show, Kelly is rumored to be dating George Clooney?
Carradine: I do! The perverse part of me sort of enjoys that.
TVGuide.com: What has been your most memorable filmmaking experience?
Carradine: Oh, gosh... I did a horror movie a year or so ago that....
TVGuide.com: Are you talking about Dead & Breakfast?
Carradine: Have you seen it? It's a rental, I know — it's at Blockbuster now. I have memories from that of it being four in the morning, me being freezing cold and covered in blood while pretending to fight off zombies. Those are pretty vivid memories!
11.16.05 - From TV Guide Online: Sela Ward, currently in the midst of a multi-episode arc on Fox's House, will next headline a half-hour comedy being developed for ABC, Variety reports. The series — on which Ward also serves as a producer — will follow the lives of four women in a small Southern town.
11.8.05 - Sela Ward has just been cast in "The Guardian," where she will play the wife of Kevin Costner's character, a legendary rescue swimmer.

Ed Harris and Sela Ward
by Matthew Imaging
10.4.05 - TV Guide Caught in the Act Sela of approval: Can stars like Ed Harris and Sela Ward make classical music sexy again? Harris did his best at the opening night of the Los Angeles Philharmonic with a dramatic reading of Beethoven's letters. -->

Evan Rachel Wood
by Michel/IPA
8.11.05 - TV Guide Caught in the Act - Simply red: Evan Rachel Wood's scarlet frock coordinated well with the red carpet at the Pretty Persuasion premiere. -->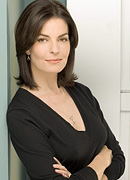 5.18.05 - From TV Guide Online: House's Sela Ward: 48 and Fabulous!
by Mary Murphy
Back when Teri Hatcher was making doe eyes at Howie Long in RadioShack spots, Sela Ward was TV's go-to sexy, mature woman: a fortysomething mom romancing a local hunk (Billy Campbell) in Once and Again. Now Ward, 48, makes a long-overdue return to TV on House, guest-starring in the final two episodes and the first episode of Season 2.
TV Guide: How did you feel when you were first offered a role on House?
Sela Ward: The last thing I wanted to do was another hourlong show. I am so over that schedule. I'd never get to see my kids [ages 11 and 6].
TV Guide: But then you saw tapes of the show.
Ward: It scares the pants off you! I was watching in the bathtub with my husband and saying, "I can't look now." I thought it would be fun to be a part of.
TV Guide: You play a lawyer who used to date House (Hugh Laurie). What's she doing back in his life?
Ward: Her husband has some dubious medical thing that nobody can figure out, so she goes to House.
TV Guide: So what was their story?
Ward: I was his girlfriend, an attorney at the hospital, five years earlier.
TV Guide: It's hard to imagine House dating anyone, ever. Was theirs an odd coupling?
Ward: [Big laugh] He's not a warm and fuzzy guy. I decided that they must have had really great sex.
TV Guide: Women find House sexy. Please explain!
Ward: He's idiosyncratic, a curmudgeon, not playing by the rules, a maverick. And there is something very sexy about that.
TV Guide: How about Hugh Laurie?
Ward: He's a very manly man. There is a mysteriousness about him. He has a formidable essence. Meet him for 10 minutes and that's what you feel.
TV Guide: So House/Hugh becoming a sex symbol makes perfect sense to you.
Ward: It doesn't surprise me at all. I bet every woman feels like they could heal the wounded little boy inside of him.
House airs Tuesdays at 9 pm/ET on Fox.
4.21.05 - We got the second season on DVD! Now there's a petition to get the third.
4.4.05 - In May, Sela Ward will begin a potentially long-term arc on FOX's House as a former flame of Hugh Laurie's irascible doc. "This is somebody he lived with, somebody he loved and somebody he still has feelings for," series creator David Shore tells TVGuide.com, adding that Ward's arrival will shed some light on why Dr. House is such a pill. "We get to know his backstory, [including] what happened to his leg."
3.1.05 - Susanna Thompson as been cast as the minister's wife in the new NBC drama pilot Book of Daniel. Other cast members include Aidan Quinn, with Christian Campbell and Alison Pill as the minister's children, Dylan Baker as the church warden and Garrett Dillahunt as God.
9.13.04 - Marshall Herskovitz and Ed Zwick are setting their sights on twentysomethings in a new ABC drama titled 1/4life. According to The Hollywood Reporter, the show will follow a group of young adults as they experience their "quarter-life crisis."
8.18.04 - Coming to the WB midseason is Rocky Point, a drama set in Hawaii (aren't they all this season?) and stars a woman (played by Chyler Leigh) who against her own better judgement, takes in her estranged father (Billy Campbell). Also cast according to Hollywood Reporter are Lauren Holly plays Leigh's landlord, a displaced NYC attorney; and last season's Tarzan portrayer Travis Fimmel is the boyfriend.
4.21.04 - WB's pilot drama Rocky Point (Warner Bros.) has added Billy Campbell to the cast list as the estranged father and rocky focal point of the show.
4.6.04 - Shane West will join the cast of ER next season as a medical intern.
3.31.04 - Sela Ward has signed on to star in the CBS telepic Suburban Madness, which chronicles the true story of a Texas woman convicted last year of murdering her philandering husband when she ran over him with her Benz. Ward will play the private eye hired to investigate the cheating hubby.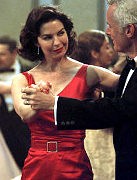 3.8.04 - From TV Guide Online: Sela Ward's Shocking Slap by Angel Cohn
After wrapping her stint as a modern mom on ABC's Once and Again, Sela Ward traveled back in time to the 1950s in Dirty Dancing: Havana Nights. She plays lead girl Ramolo Garai's mother, who's a frustrated former ballroom dancer. While filming in Puerto Rico, Ward was thrilled to strap on sexy heels and show off her moves on the dance floor, albeit very briefly.
"Damn it, I practiced for two solid weeks and there was only 30 seconds [on screen]," Ward laments to TV Guide Online. "I was so proud of all that dancing. That's the hardest work I've ever done, physically."
Is she kidding? This 47-year-old's killer body must require serious work! "I'm [usually] doing boring things like the treadmill, the weights and resistance training," she explains. "[While dancing,] I had sweat pouring off of me in rehearsal. It was great fun and I lost a lot of weight in two weeks."
Along with the pounds, Ward shed her soft-hearted mother routine from Once and Again. In Havana Nights, her character pulls a Mommie Dearest when she hauls off and smacks her rebellious teenage daughter for sneaking out to dance with a local boy. Apparently, Mom's more than a little bitter that her child's out living it up, while she gave up her pro dancing dream to have the kid in the first place. Ah, the repressed '50s.
"The [slapping] scene was easy for me because I am a parent," she laughingly admits. "Even though my children are very young — they are 5 and 9 — I can already project what it must be like to have that insolence and disrespect and rebelliousness from a child, even though they need to separate from you. So it is not difficult to go there.
"In the next scene, you see what has transpired for her," Ward continues. "[She's] coming to terms with the fact that she questions having had children and how it took away her dream. That was the tricky scene for me, not the slap. The slap was just pure, raw emotion and resentment and anger that she was too guilty to express."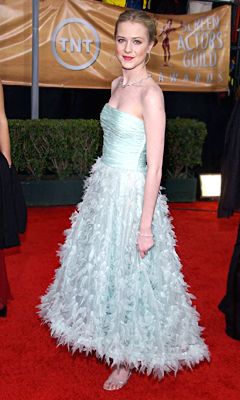 2.12.04 - From TV Guide Online: Thirteen's Evan Rachel Wood looked fabulous in feathers at the SAG awards where she was nominated for Outstanding Performance by a Female Actor in a Leading Role.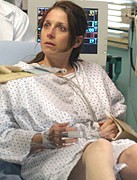 2.12.04 - From TV Guide Online: CBS Star Visits ER

Once & Again fans remember Marin Hinkle as Sela Ward's little sister, the jealous, moody Judy. Now, she costars as Judith, Jon Cryer's estranged — and possibly gay — wife on Two and a Half Men (Mondays at 9:30 pm/ET on CBS). But if you thought Hinkle played difficult drama queens in those roles, just wait till you see her on tonight's ER!

Basically, her part is every ER day player's dream: The freaked-out mother whose kid's undergoing a medical procedure in the emergency room. That kind of cameo just begs for an actress to run the scenery-chewing gamut, from fear to anger to full-on meltdown. Here's a little preview...

"My character is a mom who's driving with her husband and two kids and gets in a terrible car accident," Hinkle tells TV Guide Online. "I'm in shock, and it turns out that the driver who caused the accident is in the [room] right next to me!" Sounds like your typical wreck-of-the-week plotline, but she promises there is a twist, and it involves a heart ailment and a Hummer SUV. We'll say no more.

Happily for Hinkle, she didn't have to go far to do ER. The hospital drama and Two and a Half Men both shoot on the same Warner Bros. studio lot in Burbank, Calif. "When I auditioned," she says, "they asked if I minded switching from comic behavior to playing such tragedy in one day. But that's the joy of being an actor! It's fun to look made up and put together for a sitcom, then run over to ER and be a car accident victim, where you're mussed up and have blood poured all over you."

1.29.04 - Evan Rachel Wood is set to star in the postwar drama "American Pastoral." Jennifer Connelly and Paul Bettany are in talks to play her parents. The story is about a couple whose lives are turned upside-down when they learn their daughter (Wood) is a revolutionary terrorist.

1.15.04 - Evan Rachel Wood was nominated for a Screen Actors Guild Award for her role in "thirteen." The SAG Awards will air on TNT Sunday, February 22nd.

12.19.03 - Evan Rachel Wood was nominated for a Golden Globe Award for Best Performance by an Actress in a Drama for her role in "thirteen." The Golden Globes will be presented on Sunday, Jan. 25 and the show will be televised live on NBC.

10.31.03 - According to The Hollywood Reporter, Billy Campbell has signed a deal with Fox to headline his own drama series for fall 2004.

8.27.03 - Keep an eye out for Evan Rachel Wood in the upcoming movie "Thirteen."

7.24.03 - A fan has started a petition to get the second and third seasons released on DVD.

7.11.03 - TV Guide Online: Shane West on TV Again? - Although Shane West is currently stealing scenes away from Sean Connery in the new big-budget actioner The League of Extraordinary Gentlemen (opening today), don't take that to mean the Once and Again alum has shunned the small screen. In fact, the 25-year-old actor has just the comeback vehicle in mind. "I would love to do a Once and Again reunion," he tells TV Guide Online. "As sappy as it sounds, it was good people...."

6.16.03 - TV Guide Online "Caught in the Act" - Birthday Boy: Actor/rocker Shane West celebrated his 25th birthday with a VH1 Save the Music benefit concert at The Roxy in Los Angeles.

5.15.03 - Susanna Thompson's new drama, Still Life, has been picked up as a mid-season show for next season by FOX.

5.14.03 - Marin Hinkle's new comedy, Two and a Half Men, has been picked up by CBS for the fall season and will air in the cushy time slot of Mondays at 9:30pm ET following Everybody Loves Raymond.

5.2.03 - Shane West has been named one of the 25 hottest stars under 25 in Teen People.

3.21.03 - TV Guide Online: Billy Campbell Plays Evil Again - Serial killer Ted Bundy was executed in 1989, but TV movies refuse to let him rest in peace. Mark Harmon played the sinister role in 1986's The Deliberate Stranger. And tonight, Once and Again's Billy Campbell goes handsome and homicidal in USA's similarly titled The Stranger Beside Me (8 pm/ET). Did he watch Harmon's gorefest for evil pointers?...

1.29.03 - Evan Rachel Wood has been cast in Ron Howard's "The Missing."

1.8.03 - Billy Campbell will play serial killer Ted Bundy in the upcoming USA Network movie Ann Rule Presents: The Stranger Beside Me. The telepic -- airing March 21 -- is the first of a new movie franchise featuring best-selling author Rule (played by Barbara Hershey).

7.18.02 - Once and Again was nominated for an Emmy Award for Outstanding Casting for a Drama Series. The Emmy Awards will air live on NBC on September 22nd, 2002.

7.18.02 - The first season of Once and Again will be released on DVD on November 5th, 2002.

5.14.02 - It's official (as if we didn't already know). ABC released their fall schedule today, and Once and Again isn't on it. Our show has officially been cancelled.

5.7.02 - Shane West is in talks to star as Tom Sawyer in the upcoming 20th Century Fox feature "The League of Extraordinary Gentlemen."

5.6.02 - Evan Rachel Wood will be a recurring character on The West Wing starting this month and could possibly return next season as well. She will be playing C.J. Cregg's niece.

5.6.02 - Wanda at E!Online said that she spoke to Shane West (Eli) and Evan Rachel Wood (Jessie) last week at a Teen People party (where Shane's band played). When I asked Evan about the Once and Again rumors, her eyes filled with tears, poor thing. Here's what she said: "They actually told us there was a possibility that it could come back. But we just got the call saying to strike the sets and that we are not coming back...officially. It's sad. There was still that little ray of hope. I really wouldn't have minded if it came back. I loved those people so much."

5.2.02 - TV Guide Online reports that die-hard fans of Once and Again won't give up on supercouple Sela Ward and Billy Campbell. A group of drama devotees has raised over $20,000 in fan donations to erect a billboard in L.A.'s West Hollywood as well as buy ads in the Tinseltown trade papers all in hopes of moving ABC to renew the show for a fourth season.

5.2.02 - ABC gets yet another Jeer from TV Guide in the May 4th issue. Jeers to hasty goodbyes. We're not going to whine anymore about ABC's decision to cancel Once and Again: The people spoke, the show's gone, and, frankly, the attempts to be all things to all viewers this season did the program no favors. But a series that had hit such high notes deserved better than the rushed finale of April 15. If ever a show need the ol' Rukeyser "up yours" bravado, this was it. Had Once not strayed from its realistic roots, Tiffany would have left Jake at the altar and Lily would never have become an overnight radio success. Oh, well. At its best, Once tried for something special. And that's really something.

4.24.02 - On May 6, Jennifer Jason Leigh and Steven Weber (Sam Blue) will announce nominations for the 56th annual Tony Awards, Playbill reports. This carries on Tony's new tradition of having the nominees' names read by celebrity recasts in Broadway shows. Leigh is now starring in Pulitzer Prize winner Proof, while Weber just stepped into Matthew Broderick's role in The Producers.

4.22.02 - E!Online: "Once and Again"...Once Again? - It's the show that refuses to die. Just like Elvis sightings, it seems ABC's romantic drama Once and Again is living beyond its death--which supposedly occurred in a series finale last Monday night. Or did it?...

4.19.02 - Roush Rant from the April 20th issue of TV Guide: Watching one of the final episodes of Once and Again air against the NCAA championship game, it was hard not to reflect on how badly ABC has treated this delicate drama. Bounced between time periods, put on hiatus just as one of its stories hit a shattering peak, this emotionally demanding but richly rewarding series deserved better. But ABC can barely do justice to its more commercially viable shows, airing pivotal original episodes of Alias against the Olympics and even the Golden Globes on the night its star, Jennifer Garner, won a surprise trophy. If Garner's character of Sydney Bristow can survive ABC, more power to her.

4.14.02 - Drudge Report: 'CANCELED' SERIES 'ONCE AND AGAIN' SET STAYS UP, ACTORS NOT RELEASED; SELA WARD FAINTS DURING PRODUCTION OF FINALE

4.4.02 - Jane Sibbett (Jeannine Blue) has been cast in the WB's Debbie Reynolds vehicle, Generation Gap. In the show, Reynolds stars as an energetic, free-spirited grandmother who moves in with her straight-laced daughter, who has her own clan of kids. (Previously the show was known as My Crazy Grandma.) Sibbett will play Reynolds's daughter on the show.

3.29.02 - It's official! ABC announced yesterday that Once and Again would end its three-year run with its series finale on Monday, April 15th.

3.20.02 - Once and Again gets some sympathy from the March 23rd issue of TV Guide in a Jeer to leaden lead-ins. We were a bit surprised that one of the reasons David Letterman was said to be considering a jump from CBS to ABC was CBS's failure to provide his Late Show with strong lead-in programming. Would ABC really do a better job? Just ask the producers of the critically acclaimed Once and Again. After two seasos of here, there and everywhere scheduling, the family drama finally landed at 10pm ET Mondays. The bad news? The series's lead-in was the moronic The Chair. We can't think of a worse pairing on any network.

3.18.02 - Zap2It.com: Falwell Lauds ABC Station for Yanking 'Once and Again' - The ABC affiliate in Virginia that pulled last week's episode of "Once and Again" has gained an ally in one of its neighbors -- the Rev. Jerry Falwell....

3.13.02 - Zap2It.com: ABC Affiliate Pulls 'Once and Again' Episode - WSET, the ABC station in the Roanoke-Lynchburg, Va., area, pulled Monday night's (March 11) episode of "Once and Again," which featured a kiss between two girls, from its airwaves....

3.11.02 - Mark Feuerstein (Leo) has been cast in the new NBC pilot, Good Morning Miami, about a morning radio talk show producer.

3.9.02 - Susanna Thompson and Evan Rachel Wood are named some of TV's MVP ensemble standouts in the March 9th issue of TV Guide. As Karen and Jessie, warring mother and daughter, Thompson and Wood, 14, navigate a familial minefield. "Susanna is an extremely emotional and spiritual person," says exec producer Ed Zwick. "Evan has the same qualitites." Together, they're fierce.

3.8.02 - On page 14 of the March 2nd issue of TV Guide, Matt Roush compares Once and Again to HBO's Six Feet Under and laments the fact that Once and Again can't seem to catch a break.

2.18.02 - Don't miss Susanna Thompson in the Kevin Costner movie, "Dragonfly," in theaters everywhere February 22nd.

2.16.02 - Don't miss the wonderful article on Susanna Thompson on page 30 of the February 16th issue of TV Guide.

2.9.02 - Don't miss the article in the February 15th issue of Entertainment Weekly (with Jodie Foster on the cover) about ABC's lousy treatment of Once and Again.

2.8.02 - It's official! Steven Weber will be taking over the Broadway role of Leo Bloom in the Broadway show "The Producers" in March.

1.31.02 - ABC has reduced its episode order for Once and Again from 22 to 18.

1.25.02 - TV Guide Online: Shane West: No "Candy" Fan - As the lead guitarist and singer for the L.A.-based punk-rock band Average Jo, Once and Again's Shane West wasn't exactly a fan of pop starlet Mandy Moore's music when he took a starring role opposite her...

1.24.02 - Don't miss "A Walk to Remember" starring Shane West, in theaters everywhere very soon.

1.21.02 - Check out TV Guide Online's Golden Globes Caught in the Act for a picture of Sela Ward's horrendous dress. You gotta click on her head in the gallery to see the whole thing.

1.16.02 - As of this Friday, Once and Again will come off the schedule at 9pm for a seven week hiatus, returning to the Monday schedule on March 4th at 10pm. In its slot for this week is an episode of ABC's new primetime game The Chair.

1.14.02 - Wanda at E!Online reports that Once and Again's episode order was cut from 22 to 17.

12.29.01 - From the December 29th issue of TV Guide: Steven Weber is about to celebrate his son Jack's first birthday. "My wife [producer Juliette Hohnen] and I have been spoiling the hell out of him, getting him every educational toy, all these robots. Mostly, I'm buying them for me," he says. "He's unbelievable. You have somebody without any psychological baggage loving you. He's just pure." To pay for Jack's college education, Weber and his wife are developing a project about performer Danny Kay. "I'm studying his bits," he says.

12.28.01 - TV Guide Online: Steven Weber: Still Cursed?

12.27.01 - Once and Again will be moving to the 9pm ET Friday time slot as of January 4th.

12.21.01 - In Entertainment Weekly's special year-end double issue, Once and Again is named the #8 show of the year by Ken Tucker. The highest compliment I can give this show is that, if anything, it has become even more fragile and delicate–precious in the best sense. The series is finely attuned to the thousand tiny slights and joys that make up teenagers' daily existence, in addition to dramatizing the unexpected awkwardness of a new second marriage. And this season, O&A also illuminated the inner lives of the ex-spouses of Sela Ward's and Billy Campbell's characters, thus providing showcases for heartbreakingly precise work by Jeffrey Nordling and Susanna Thompson.

12.20.01 - Sela Ward was nominated for a Golden Globe Award for Best Performance by an Actress in a Television Series - Drama. The Golden Globes will be broadcast on NBC at 8pm ET Sunday, January 20th.

10.24.01 - TV Guide Online: ER Bad Boy in Pasadena - Mark Valley isn't yet a household name, but the fair-haired actor is fast becoming one of TV's most familiar faces. The Days of Our Lives alum won kudos for his breakout role as Bobby Kennedy in TNT's 1997 teleplay, George Wallace. He has also recurred on Once and Again and ER (as Nurse Abby's deadbeat ex). Now, he's returned to his sudsy roots as newspaper mogul Robert Greeley in Fox's nighttime soap, Pasadena....

10.15.01 - Mark Valley (Will Gluck) tells Soap Opera Digest "I had an offer from Once and Again to be a regular [this season], but after getting [my job on Pasadena], I thought, 'Wouldn't it be great to be on a show [from the beginning]?'"

9.15.01 - Entertainment Weekly points out another example of art imitating other art. Eric Stoltz will show up for seven episodes of Once and Again (beginning Sept. 28) as a drama teacher who becomes "intimately involved" with his lovesick junior high student Grace Manning, which just happens to be a theme behind Stoltz's upcoming film The Rules of Attraction.

8.27.01 - Zap2It: 'Once & Again,' 'Law & Order' Psychologists Recognized - If you're going to see a TV psychologist, don't go to "The Soprano's" Dr. Melfi, instead take a look at "Once and Again's" Dr. Rosenfeld or "Six Feet Under's" high school counselor, according to The American Psychological Association....

8.24.01 - Eric Stoltz will be joining the cast. For more details on his character, see the previews page.

8.21.01 - Sela Ward will be a presenter at the 53rd Annual Primetime Emmy Awards, which will be broadcast live from Los Angeles' Shrine Auditorium on CBS Sunday, Sept. 16.

8.14.01 - Read Evan Rachel Wood's chat with Wanda at E!Online from August 13th.

7.31.01 - "Dying to Dance," starring Kimberly McCullough (Jennifer), will air on NBC on Sunday, August 12th.

7.31.01 - "Blue Moon," starring Jeffrey Nordling, will air on CBS on Sunday, August 12th.

7.20.01 - Zap2It: On Vacation with Once and Again's Evan Rachel Wood

7.12.01 - Once and Again received 3 Emmy nominations including Outstanding Casting for a Drama Series, Outstanding Lead Actress in a Drama Series (Sela Ward) and Outstanding Guest Actor in a Drama Series (Patrick Dempsey as Aaron Brooks in "Strangers and Brothers").

5.22.01 - Zap2it: Once and Again Reneweal Was a Close Call

5.15.01 - According to ABC's official Fall Schedule, Once and Again will be returning next season in the Friday, 10pm ET time slot, however, 20/20 will be taking over the slot on in December (and they don't exactly say what will happen to Once and Again then).

5.15.01 - Wanda at E!Online reports that two of the actors on the show are dating and will be spending the summer together.

4.30.01 - Zap2It.com: 61* was Family Affair for Crystal and Daughter - Billy Crystal helped his daughter, Jennifer Crystal Foley (Christie), get an audition for 61*, but from there, she was on her own...

4.18.01 - Jennifer Crystal Foley has been named a "Breakout" by the April 20th issue of Entertainment Weekly. Jennifer Crystal Foley, age 29. Where you've seen her: on ABC's Once and Again as Lily's boss Christie. Task master: Foley decided to ad-lib in a scene where a crampy Christie demands tea from a beleaguered Lily: "I took one sip and spit it out all over her. That's the great thing about Sela...she didn't mind." Star track: the Northwestern grad is the daughter of ex-Oscar host Billy Crystal. Next: playing Mrs. Roger Maris in the HBO baseball drama 61* (April 28), directed and exec-produced by her Yankee-fanatic dad. Family matters: Foley and pop kept mum on her identity during her 61* audition. "After I left the room, Barry [Pepper, who plays Maris] said, 'I liked her!' And my dad said, 'Good! Because she's my daughter.'" – Alice M. Lee

4.16.01 - Zap2It: Save Our Shows - with links to three Save Once and Again Guides

4.16.01 - TV Guide: The Best Show You're Not Watching

4.4.01 - From the March 31st issue of TV Guide: ABC's Once and Again regularly goes inside its characters' heads–young, old and in between. But never has this emotional journey been as harrowing or heartrending as when Lily's mentally ill brother, Aaron (Patrick Dempsey), recently returned for a haunting visit. Dempsey, so charming on Will & Grace as a closeted sportscaster who briefly dated Will, beautifully conveyed Aaron's perilously fragile equilibrium with bashful grins and sudden twitches. On medication, his sweet and playful side emerged endearingly, all too soon vanquished by anxiety attacks and violent breakdowns as sinister, threatening inner voices took over. In playing a character tragically damaged, Dempsey was triumphant. -Matt Roush

3.12.01 - Sela Ward, along with Martin Sheen ("The West Wing"), presented the award for Oustanding Female Actor in a Comedy Series to Sarah Jessica Parker ("Sex and the City") at last night's SAG Awards on TNT.

3.5.01 - Free Press: Superb show needs viewers or else

2.10.01 - Julia Whelan and Susanna Thompson were named MVP actors of TV in the February 10th issue of TV Guide and Edward Zwick and Marshall Herskovitz were named MVP producers of TV.

2.2.01 - Billy Campbell is in talks to star opposite Jennifer Lopez in the suspense drama "Enough," Variety reports.

1.30.01 - Sela Ward was nominated for a Screen Actors Guild Award for Outstanding Performance by a Female Actor in a Drama Series. This year's awards will be presented on Sunday, March 11th, 2001 at the Los Angeles Shrine Exposition Center and televised nationally on TNT at 8pm ET.

1.22.01 - Last night Sela Ward won the Golden Globe award for Best Actress in a TV Series - Drama.

1.22.01 - Last night at the Golden Globe awards, Billy Campbell and Patricia Heaton presented the award for Best TV Series - Muscial or Comedy to "Sex in the City."

1.12.01 - Richard Kramer was nominated for a 2000 Writers Guild of America Award for "Strangers and Brothers."

1.2.01 - "Once and Again" was voted one of the top shows of TV critics across the country in Electronic Media's biannual critics poll. More...

12.29.00 - "Once and Again" has been nominated for five TV Guide Awards: Drama Series of the Year, Actor of the Year in a Drama Series (Billy Campbell), Actress of the Year in a Drama Series (Sela Ward), Supporting Actress of the Year in a Drama Series (Susanna Thompson), and Breakout Star of the Year (Shane West).

12.21.00 - Sela Ward was nominated for a Golden Globe Award for Best Performance by an Actress in a Television Series - Drama. Congratulations!

12.21.00 - Amy Amatangelo at dish this says that "Once & Again" is her number one show of the ten best shows of the year.

12.20.00 - TV Now: Interview with Marin Hinkle

12.19.00 - "Once and Again" was ranked #3 out of TV Guide's Top 10 Shows of 2000.

12.12.00 - "Once and Again" will move from Tuesdays to Wednesdays at 10pm ET as of January 10th. "Gideon's Crossing," which currently holds the Wednesday time slot, will be moving to Mondays, and "NYPD Blue" will return in its usual Tuesday time slot. ABC has said they believe "Once and Again" will be solid counterprogramming to NBC's "Law & Order" on Wednesday nights.

11.4.00 - Matt Roush gives "Once and Again" a great review on page 10 of the November 4th issue of TV Guide.

9.14.00 - TV Guide Online: Susanna Thompson's Stormy Past - Susanna Thompson says she passed on a role in the summer blockbuster The Perfect Storm to play Billy Campbell's ex-wife on "Once and Again."

9.11.00 - "Once and Again" Emmy Award Wins! (1)
Outstanding Lead Actress in a Drama Series (Sela Ward as Lily Manning)

9.8.00 - Shane West is up for TV's Sexiest Guy on CosmoGIRL! Vote now.

8.8.00 - The Viewers for Quality Television named Sela Ward best actress in a drama.

7.20.00 - "Once and Again" has been nominated for an Emmy for Outstanding Lead Actress in a Drama Series (Sela Ward). The Emmy Awards will be presented on September 10th and broadcast live on ABC.

7.18.00 - Billy Campbell and Geraldine Chaplin have joined the cast of Hallmark's biblical NBC miniseries "In the Beginning." Campbell will play Moses, and Chaplin will portray Yocheved. Also starring are Martin Landau, Jacqueline Bisset, Diana Rigg, Eddie Cibrian, Christopher Lee, Alan Bates, and David Warner.

7.15.00 - There is a great article on Bonnie Bartlett (Barbara Brooks) on page 49 of the July 15th TV Guide.

7.10.00 - In a semi-annual poll, held by Electronic Media, of television critics from 57 daily U.S. newspapers, "Once and Again" was voted the seventh favorite show of TV critics across the country.

6.29.00 - Sela Ward has been named the "It Siren" by the June 30th issue of Entertainment Weekly.

6.29.00 - Mark Feuerstein (Leo) was named "It Phoenix" by the June 30th issue of Entertainment Weekly due to his rise from the ashes after the demise of his NBC sitcom "Conrad Bloom."

6.29.00 - Look for Steven Weber's (Samuel Blue) new sitcom on NBC this fall. Its name was recently changed from "Cursed" to "The Steven Weber Show," and it will have the coveted 8:30pm ET Thursday timeslot after "Friends."

6.27.00 - On page 53 of the June 27th issue of Soap Opera Digest, there is an article on Kimberly McCullough's (Jennifer) return to "General Hospital."

6.6.00 - "Once and Again" has received three nominations for Television Critics Association Awards. The winners will be announced Saturday, July 15th during a ceremony hosted by Ben Stein.

5.16.00 - "Once and Again" will premiere at 10pm on Tuesday nights this fall, but will move to Monday nights at 10pm after the end of ABC's NFL Monday Night Football. "NYPD Blue" will be taking back its Tuesday slot at that point.

4.19.00 - Billy Campbell and Geraldine Chaplin have joined the cast of the NBC miniseries, "In the Beginning." According to The Hollywood Reporter, Campbell will play Moses in the Hallmark Entertainment biblical saga that begins with the story of Creation and ends with Moses delivering the Ten Commandments.

3.30.00 - TV Guide Online: Once and Again Hunk Survives Star Wars. Shane West is pretty positive he won't be the next Anakin Skywalker.

3.27.00 - "Outside Hearts," the November 16th episode, won a Prism Award, which champions accurate depiction of drug and alcohol abuse in movies and television.

3.21.00 - Kimberly McCullough (Jennifer) recently signed to star in a pilot for the WB titled "Inspector General." Soap Opera Digest reports that McCullough will be the voice of reason in the chaotic lives of the other main characters.

3.17.00 - The March 14th issue of Soap Opera Digest mentions that Shane West recently got a tattoo. It's a Gemini (his sign) in a circle in Celtic. It's on his back between his shoulder blades, and he says it wasn't that painful, but it did make him actually throw up afterwards. He says he forgot to breathe, plus he had to be bent over while it was being tattoed, so when he raised his head he got nauseous.

3.7.00 - Ultimate TV: Once and Again honored at William S. Paley Festival

2.10.00 - On TV Land's list of the 2000 best things on television, the character of Miles Dentrell is #442.

1.10.00 - Billy Campbell won a People's Choice Award for Favorite Male Performer in a New Television Series.

12.20.99 - "Once and Again" has been named the fourth best television show of 1999 by Entertainment Weekly.

12.20.99 - Sela Ward's performance on "Once and Again" has been named of 1999's best performances by Entertainment Weekly.

12.20.99 - "Once and Again" has been named part of the best of TV by TV Guide.

12.20.99 - "Once and Again" has been nominated for a Golden Globe Award for Best Television Series - Drama.

12.20.99 - Sela Ward has been nominated for a Golden Globe Award for Best Performance by an Actress in a Television Series - Drama.

12.20.99 - Billy Campbell has been nominated for a Golden Globe Award for Best Performance by an Actor in a Television Series - Drama.

12.18.99 - Soap Opera Digest reports that Kimberly McCullough (Jennifer) has broken up with her live-in boyfriend, film star Freddie Prinze, Jr.

9.23.99 - RickonTV.com: My So-Called Relationshipsomething: Once and Again